Volunteering
One of the strengths of FairMail is that the young Peruvian and Indian trainee photographers are trained by temporary international volunteers. As every volunteer has a different background and his/her own way of working, the teenagers keep on getting new inputs, insights and skills.

Former and current volunteers value their FairMail experience as enriching and useful for their further careers. Click on the links above for more about current volunteer vacancies, the application procedure and stories of former volunteers.


Vacancies Volunteerwork
Details about Volunteerwork
Experiences from former volunteers
Vacancies paid jobs

Vacancies Volunteerwork

FairMail has the following volunteer vacancies in Peru and India, all with a minimum period of 8 weeks:

a) Photography & Creativity trainer for the 10 Peruvian or Indian teenagers.
b) Trainer for social habilities- and personal development workshops for the teenagers.
c) Marketing trainer (teach the teenagers about working demand driven).


For all vacancies it's important that you speak Spanish (for Peru) or English for India (and some Hindi is welcome too). Experience in mentioned fields is preferred.

For more details and application info read the section "details on volunteering" below.

back to top

Details about Volunteerwork

Task description
Your task as a volunteer is to contribute to the mission of FairMail: guiding underprivileged teenagers in producing qualitative photos and in producing and selling fair trade greeting cards in Peru and Western countries, with as goal the personal development and income support for these teenagers.

The activities are, dependent on the vacancy and your abilities:
- preparing and giving photography, creativity, social habilities and/or marketing trainings to Peruvian or Indian teenagers.
- assisting in product development (graphic designing)

Working Location:
In Peru: Trujillo, La Libertad, (northern) Peru. Nearby Trujillo - where the FairMail office is- is its coastal village Huanchaco where it is very nice to live a sunny (surf &) beach life. (see www.otracosa.info, www.turismohuanchaco.com and www.huanchacovivo.com for more about Huanchaco).

In India: Nagwa, Varanasi, Uttar Pradesh, India.

Benefits for you:

• Get to know about the lives of children who used to be living on the streets and/or live in relatively poor circumstances.
• Have a good time with really great kids!
• Learn about working with children with a difficult background.
• Get to know a local village from an inhabitant's perspective instead of the short stay tourist perspective.
• Seeing photogenic Peru or India through the local eyes of the kids and learning about the dynamics of ´local photography´.
• Chance to leave behind your contribution to a beautiful product that will generate income for people that really need it.

Requirements:
• Spanish speaking (advanced!)and for India English speaking and prefferably some Hindi too.
• Flexible and open-minded
• Interest and some experience with working with teenagers (13-18 years old)
• Able to work independently and structured
• Creative and flexible in organizing activities
• Minimum commitment of 8 weeks
• That you will send us the necessary information we ask for below IN SPANISH (and for India in english).
Without this information we cannot take in your application. So please write us about:
a) Your personal motivation to volunteer at FairMail. Which of the vacancies mentioned suit you and why?
b) We wonder what your expectations are. Could you describe us how you imagine a day working for FairMail? Your expectations are important to avoid disappointments later on.
c) Your Resume (stating age, education and past work and volunteer experiences)IN SPANISH (or english for India).
d) Your availability: when exactly do you want to come and for how long do you want to stay?

What we offer you:
• Introduction in FairMail and guidance in your tasks by our local manager.
• A contact to find cheap long-term housing:
a) in Peru this contact is the volunteer agency Otra Cosa, see details on www.otracosa.info under: Long-term Volunteer Accommodation. By sending them an email at volunteer@otracosa.info you can reserve a room. Apart from this contact, Huanchaco also has many hostels, hotels and a camping.Recommendation: www.hostalnaylamp.com
b) In India we can offer you cheap housing in one of our two FairMail volunteer rooms: they are attached to the office and have a shared kitchen, bathroom and computer facility with internet. This will cost you only 4500 Rs a month (= 2,5 euro a day, includes internet, gas, electricity and water filter..hostels cost at least 6,5 euro a day!) and by doing this you help FairMail to cover the rent costs. Food will cost you about 5 euros a day or less if you cook for yourself.

Working hours:
The schedule depends on the school hours of the teenagers. The average amount of working hours is 25 hours a week. A minimum stay of 8 weeks is required, but more would be even better.

About the FairMail teenagers
The kids you will work come from different places: in Peru some of them live in a boys home for ex street children called Mundo de Ninos (www.mundodeninos.org). Others live in El Milagro, a poor part of Trujillo near a garbage dump. In India the teenagers are from the lowest social classes, they live in a poor part of town. For more about the teenagers see The Photographers on the home page.

Application Procedure
Once you have sent us the information we asked for above, we will email you with some more questions and information, and will let you know as soon as possible if we can invite you at FairMail. If yes, we will send you a confirmation form with all the details of our agreements.

Send your application for FairMail Peru IN SPANISH to our local manager Renato Cerqueira Núñez at voluntario@fairmail.info
Send your application for FairMail India in english to Janneke Smeulders at volunteer@fairmail.info

back to top

Experiences from former volunteers
Rebekka H., Germany, volunteer at FairMail India in 2012:
Studying International Social Work and being passionate about photography, I decided to put both together and spent my practical semester with FairMail. Those five months were challenging and rewarding at the same time. Challenging, because of India being so different to what I am used to and rewarding, because one cannot have greater students than those from
FairMail India! They had in general such a high motivation, that I got always motivated myself when teaching them. Also, the students and Akshay, the manager and Dhiraj, the assistant manager, were very kind and helped me a lot. I am happy that I had the opportunity to work with FairMail India and would highly recommend it!!
Maria Forman, Germany, volunteer at FairMail India in 2012:
What a fantastic experience it is to work for FairMail India! It had always been a dream of mine to travel to India and having gained a degree in photography FairMail seemed like the perfect opportunity to combine both things. India is full of color, sights, sounds and certainly a smell or two, but the essence of its extraordinary appeal lies in its people. I found that the FairMail students are some of its finest. It was such a joy to spend three months teaching and being taught in many ways in return by the teenagers. I would highly recommend the experience to anyone interested.
Paulina Polak, Polonia, worked in FairMail Peru in 2012:
A unique experience and above all the photography trip that I did with the FairMail photographers was very special. I am very happy that I have been able to contribute to the development of this beautiful young company that is set up very dynamic and progressive.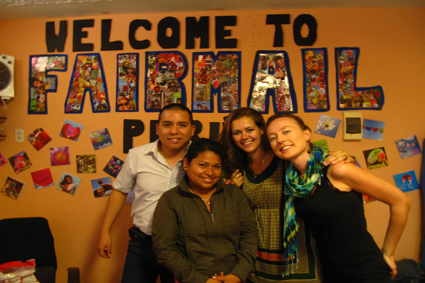 Miranda Mars, Holanda, in FairMail Peru in 2012:
I very much enjoyed working with a group of very motivated, happy and respectful adolescents, to see their lifes, share it and learn about it. I appreciated a lot that I could prepare the lessons myself and that I could propose new ideas and methods.
Ellen Junglen, USA, volunteerd in Peru in 2012
My experience with Fairmail was everything I had hoped for. I wanted to find a productive organization that really impacted the lives of people in need. By getting to know the photographers I saw how Fairmail helps finance their education, health care and housing. Fairmail also gives them the suport, advice and postive influence needed to study and for thier personal development. I was recieved warmly as a volunteer and my opinions were taken seriously. I would highly recomend volunteering with Fairmail.
Charlotte Mestdagh, Belgium, volunteered at FairMail Peru in 2012:
For me Fairmail was a great experience. I study social work and I had never tought that a project as this could have so many social aspects. It's an amazing initiave, you can tell that I really love Fairmail :)! And then I didn't talked about the children yet, they are absolutly lovely! Those childeren, who have a lot less than children in the Western society, are always happy. They can brighten up your day even if you feel miserable. I must admit that I was homesick a few times but everytime I entered that door I felt so welcome. I really want Janneke en Peter to know that their project is unique. I also wanna thank Renato, Cynthia and Elmer for their patience and their help! Oh yeah, if their is one thing you learn in Fairmail it is: A small change, a big influence. Muchos gracias Fairmail!
Anna Doyle, New Zealand, volunteered in Peru for 2.5 months in 2011
Volunte
erin
g with Fairmail Peru is an experience I will never forget. I learnt so much from all the teenagers the most talente
d, caring and outgoing kids you will ever meet. I came with limited Spanish and teaching experience and the pati
en
ce, good humor and understanding from all the team at Fairmail was amazing. The highlights were seeing the teenagers learn and utlilize new skills to their full potential. Working with the students on their individual creative ideas and knowing that all the work we put in was really worth it seeing the photos be made into cards. I
was really lucky and got the opportunity to go on a 7 day photography adventure in an andean mountain village, where we worked on different themes and ideas for cards in an amazing setting. One activitity, the teenagers were set the challenge of making a video which was more than successful not to mention hilarious, Peter Jackson would have been impressed!
I highly recommend volunteering with Fairmail it is an amazing organisation that really does make a difference in the lives of the teenagers.
Thanks to all the team at Fairmail! Anna Doyle
Carole Lauener, Switserland- volunteered in India for 2 months in 2010
I spent 2 incredible months with fairmail. Everyday was an adventure not to be missed. The students and I both learnt from each other. It's great to get to know the students with their very own characters. One thing they have in common is their motivation, curiosity and great sense of humor.
About Varanasi... it is one of the most fascinating places I've ever been despite its chaos, noise and dirt. Go with the flow and you'll love it.
Brittanie Sterner, USA - volunteered in India for 2,5 months in 2010
I have, at best, a basic knowledge about photography. That was only an aspect of my volunteer experience with FairMail; every time we had class or went into Nagwa to shoot, I had a chance to experiment with the kids, these kids who I've gotten to know so well, to help push the boundaries of their confidence and creativity. I'm a big fan of FairMail.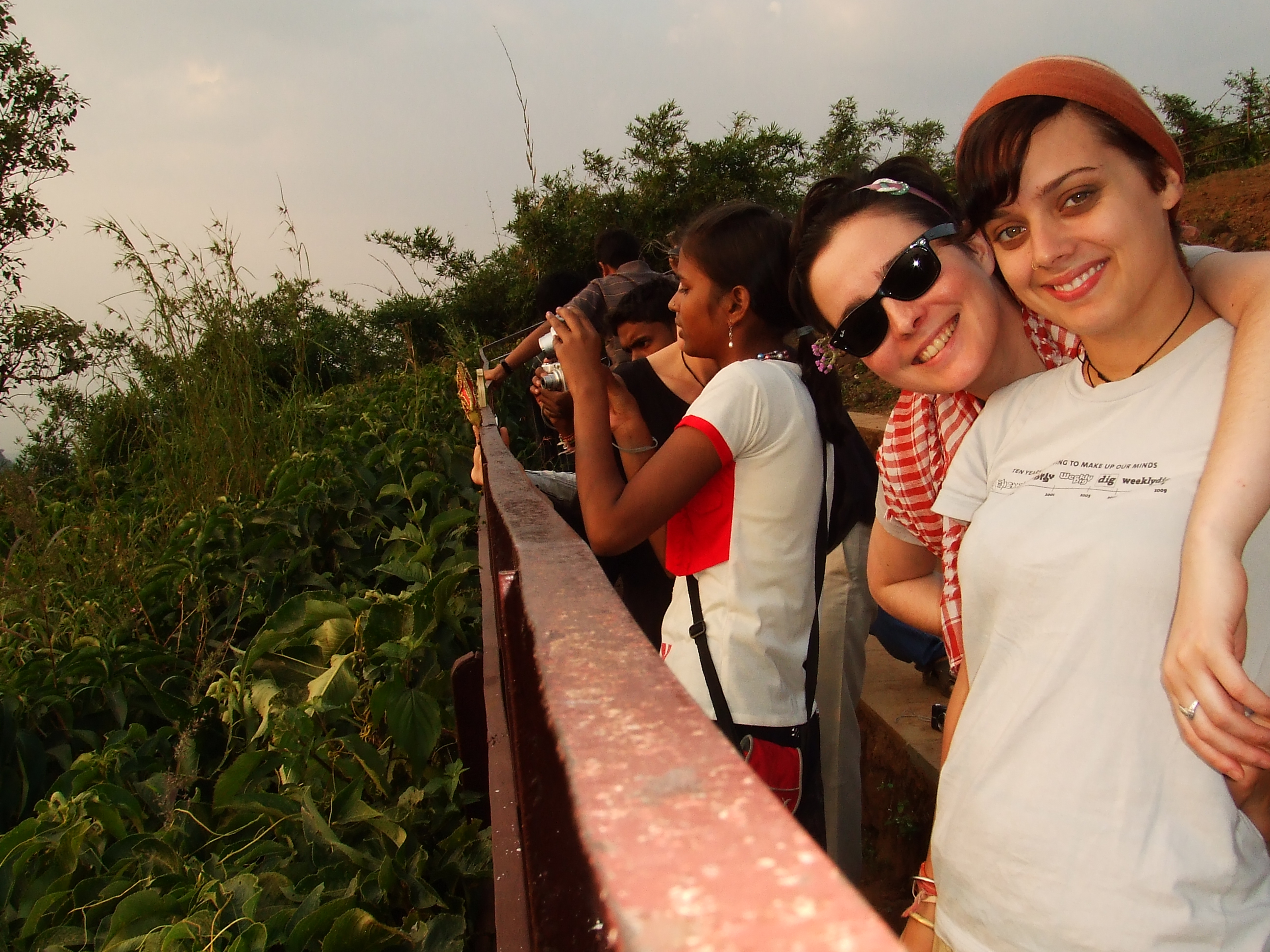 Yuriy Vaysgant, USA - volunteered in India in 2010
If you are looking to spend time in India I highly recommend volunteering with FairMail. India is a great place to visit, but even better when you are there with a purpose. Fairmail helped me grow as a person and I will forever remember the experience, I enjoyed most getting to know the students and meeting so many people along the way. I am thankful to Fairmail for giving me this opportunity.

Emily Tong, USA - volunteered in 2009
Working with Fairmail was one of the best experiences of my life. It gave me an opportunity to teach what I love (photography) and be introduced to an amazing culture and people. Although the climate and the streets of Varanasi took a while to get used to I began to feel comfortable in a place that was completely new. To be able to walk down the streets of a completely different place and have the teenagers say "hi" enthusiastically was a remarkable feeling and gave me a sense of belonging. The teenagers were all so welcoming and eager every day which made it incredibly rewarding to teach. Teaching with Fairmail allowed me to see the city of Varanasi through the students. Engagement parties and birthday parties were full of family and friends, again giving the wonderful sense of community and respect. Although there was a language barrier between me and the students, it didn't stop us from having a lot of fun (playing in the rain, making samosas, dancing) and learning a lot. I was able to teach them about several photography concepts, such as light, space, portraits, action, close-ups, etc. The students are very smart and are fast learners. I saw such improvement from all of the students just in the two months that I taught. I can't wait to see what other postcards they make. I am so proud of them! They became such great friends and I hope to go back again someday!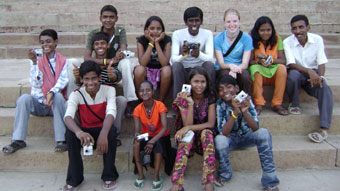 Erika Somogyi, USA -volunteered in India in 2009
"My experience with fairmail India has been truly fantastic. Working
with the teenagers was at times challenging but completely worth the
effort. At first many of the teens were very shy and afraid take
photos or even sketch a simple picture because they thought they
didn't know 'how'. However through positive encouragement and
different activities the teenagers have gained confidence and started
to love photography. The improvement in their attitudes and
self-esteem that I have witnessed has been very inspiring.
Additionally, spending an extended period of time really 'living'
rather than traveling through Varanasi has allowed me to 'experience'
India. The city is very lively, full of color, and thus serves as the
perfect location to teach photography. I really feel I have gotten to
know the teenagers. I have been invited to various Indian parties,
weddings, and into homes to drink chai. The whole experience has been
more thought provoking and rewarding than I could have ever imagined."
--Erika Somogyi, United States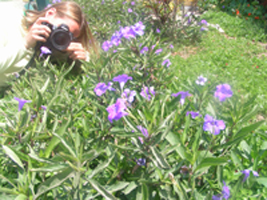 Whitney Conti, Verenigde Staten Ik heb met Fairmail gewerkt van Augustus tot December 2006. Aangezien ik een fotografie achtergrond heb, heb ik vooral gewerkt aan het ontwikkelen van de fotografie vaardigheden van de tieners en aan contacten voor Fairmail binnen de gemeenschap. De manager Janneke creeerde een warme, leuke en stimulerende atmosfeer om in te werken. Ze luisterde niet alleen naar mijn ideeen voor het project, maar ze gaf me veel autonomie in beslssingen en communicatie binnen het project. De Fairmail fotografen zijn respectvol, enthousiast en ook geduldig met mijn Spaans en culturele verschillen. Ik vond Fairmail een geweldige ervaring, ik kon me echt geen betere plek wensen. Ik raad Fairmail ten zeerste aan voor iedereen die interesse heft in vrijwilligerswerk doen in een interessante en vriendelijke omgeving waarin je de kans krijgt om echt verschil te maken.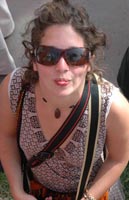 Sydelle Smith, Zuid Afrika Ik heb 7 weken in het Fairmail vrijwilligersprogramma gewerkt. De eerste dag was ik wt nerveus om de andere vrijwilligers en de Fairmail crew te ontmoeten. Binnen 2 dagen voelde ik me al thuis in het kleine sfeervolle Huanchaco. Met mijn mede vrijwilligster Whitnye gingen we naar Milagro, een dorp waar 4 van de tieners wonen. Vanaf dag 1 in Fairmail voelde ik dat ik als leraar iedere dag meer van de kinderen leerde. Ze waren gemotiveerd, getalenteerd en heel gezellig.. De taalbarriere was soms een probleem voor me maar met de hulp van de andere vrijwilliger lukte het me wel. We hebben de tieners les gegeven over fotos editen, licht situaties en de manueel in te stellen functies op de digitale camera. We zijn regelmatig op excursies gegaan naar markten in de stad of b.v. een optocht. In Huanchaco zelf werkten we ook met 2 jongens van het opvanghuis voor straatjongens. Iedere dag was een nieuw avontuur, vol lol en altijd leerzaam. HElaas kwamen de kinderen niet altijd naar de lessen omdat ze drug zijn met school en familie maar al met al was fairmail een geweldige ervaring die ik nooit zal vergeten. Ik wil Fairmail ook graag in mijn eigen land Zuid Afrika opzetten. Om zo de kennis en passie voor fotografie over te blijven dragen.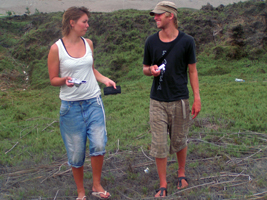 Gerwin de Vries en Ruudje Kea, Nederland
We hebben in februari en maart 2007 met Fairmail gewerkt en het was een hele fijne ervaring! Het hoogtepunt was een excursie naar de provincie Piura, waar de tieners veel natuurfotos hebben gemaakt.. We hebben een film van deze excursie gemaakt die als promotiemateriaal gebruiktkan worden. (voor de film zie de Over Fairmail pagina).We hebben ook wat lessen gegeven over perspectief, kleur, beweging en details en een hele basic les over Photoshop. Wat we zagen toen we de kinderen beter leerden kennen is dat iedere tiener zijn of haar eigen talent heeft op een andere manier. Bijvoorbeeld, Luis probeert met perspectief te experimenteren en is goed met Photoshop. David is een hele geconcentreerde denker- fotograaf. Cinthia neemt wel 3 keer zoveel fotos dan de anderen en heeft wat mooie zelfgemaakte opstellingen. Etcetera. De groep samen is heel fijn om mee te werken, we hebben zelf ook veel van hen geleerd!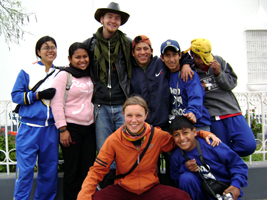 Robert Nijhout, Holanda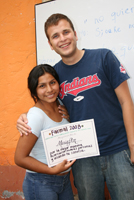 Nick Tuck, London, UK My name is Nick Tuck and I have just finished up my position at Fairmail as a marketing assistant. The past 8 weeks (february and march 2008) have been an amazing experience that I feel I will only truly appreciate the magnitude of when I touch back to old blighty and the bubble bursts. From living in Peru, to seeing the teenagers turn ideas into photos and meeting with there families it has offered me a great insight into local hearts and minds. In my time here I have enjoyed working on a ranging number of different tasks from marketing reports over to touching up the photograpthy on photo shop and back to working on their first UK sale. I feel this will be a shining star in my career that I will look back on for many years to come and in the meanwhile I will keep a look out for Fairmails cards thoughout the world.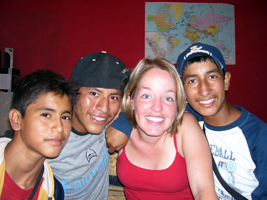 Lora Reehling, Lancaster, USA Fairmail is the perfect opportunity to reach out and use your creative skills to make a difference in the lives of young teenage photographers.I felt very lucky to find such a unique program that was asking for the exact skills I could contribute. If you are passionate about photography, creativity, teenagers and using your spanish everyday, it is perfect! Not to mention Fairmail´s inspiring and relaxed location in Huanchaco, really enjoyable. This volunteer experience has inspired me in many ways. It proves anything is possible. The relationships I developed with the kids, the things I learned from them and about myself are so valuable. It feels great to be part of something so genuine in how it promotes creativity and enables young people to carve their own path to a better future.
back to top

Vacancies paid jobs

At the moment we have no paid vacancies...

back to top

For more volunteering options at organizations that support FairMail click on the links below:
Volunteer Work Opportunities Abroad

Volunteer South America

Independant Volunteer

South America Explorers


Nordic Light Photography Festival