Posted on 22 January 2018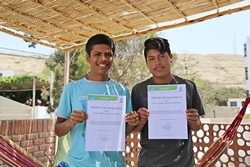 As every year, the election of the Photographer of the Year is always awaited with tense anticipation. This is a reward that all the teenage photographers aspire to, but what does exactly mean being elected Photographer of the Year and how does the election work? And most importantly, who is 2017 Photographer of the Year? This blog post will walk you through all the steps to achieve this important acknowledgement and reveal the winner!
In FairMail we have a "red and green point" award system that is used both to decide which of the kids are going on the photography trips and to elect the Photographer of the Year. Every time a teenager stands out for doing something remarkable, like for example supporting one of his/her colleagues or giving an extra hand in the office, he or she get a green point. For the opposite reason, they get a red point every time they do not comply with one of the 5 values that we stand for in FairMail.
When a teenager gets a green or red point, the reasons behind this decision are openly stated during Saturday's circulo social so that it is clear to everybody why the green or red point was given. At the end of the year we simply do the math subtracting the red points from the green points and the teenage who scores best is elected photographer of the year.
This year, for the first time in FairMail's history, we had a draw! Gabriel and Paul got the same result and were both awarded Photographer of the Year 2017! This is no surprise, both have worked really hard and have always put a little extra effort during classes. Paul's achievement is particularly important to him because being awarded Photographer of the Year was his goal for 2017.
From our contact page you can email Paul and Gabriel and personally congratulate on their achievement!
Share