Ready for the adventure? As part of our program, in the months of January and August, we pack our bags and go explore beautiful, remote areas of Peru. If you are up for an adventure off the beaten path and want to experience first-hand what life in Peru is really like, you should pack your bags too!
Our destinations in Northern Peru include the Amazon Forest, the Cordillera Blanca, the area of Cajamarca, and the green valleys of Chachapoyas.
Much more than just a trip. We promote responsible, sustainable practices that minimize the negative impacts of tourism, whilst maximizing the positive impacts on the environment and local communities.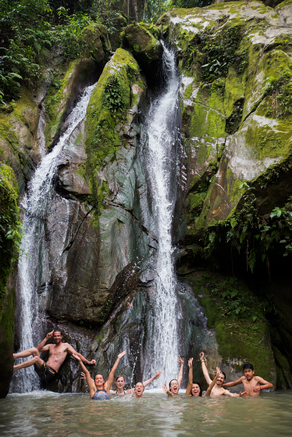 Empowering young photographers. By traveling with us you give one of our teenagers the possibility to join the trip and live a life experience that they could not otherwise afford. Most importantly, thanks to you, they will have the opportunity to take beautiful pictures in beautiful areas of Peru and earn money for their education. Approximately, half of the FairMail cards for sales are produced with pictures taken on the trips which makes them a tangible opportunity for the photographers to build a better future for themselves.
Positive economic impact. Not only you will have a direct positive impact on our teenagers and their families but also on the local communities we visit. When it comes to food and accommodation, we only support local, family-run businesses. The income-earning opportunities that we generate contribute to enhance the well-being of the host communities.
Positive socio-cultural impact. We respect and celebrate the identity, culture, and traditions of the host (often indigenous) communities and we favor dialogue and inter-cultural understanding. The fact that we travel with Peruvians opens the door to a deeper level of interactions with the host communities and we forge meaningful, lasting relationships with them.
Break out of your comfort zone We travel with Peruvians, in full Peruvian style. Tourism in Northern Peru is just developing and the level of comfort of the facilities that we use is probably lower than what you are used to. We recommend this trip to flexible, adaptable people who are open to new challenges and learning experiences. You will be traveling with an English, Spanish and French-speaking guide, the FairMail photographers, and fellow travelers from all over the world and we guarantee full pre-departure and on-site support.