Posted on 22 January 2018
A very special Christmas in Fair Mail!
Christmas is all about sharing happiness with the people you love and that's exactly what happened at the FairMail Christmas party in Huanchaco!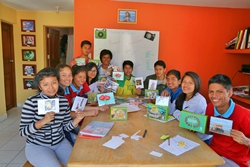 The day kicked off with a very interesting workshop on feedback held by our volunteer Jet. The teenagers learned how to give and receive feedback in a mature and constructive way, which is something that will prove to be particularly useful during photo sessions. The teenagers are now aware of the importance of listening and of phrasing the feedback in a way that doesn't come out as offending.
In the second half of the morning, the teenagers were given a copy of the cards made with the pictures they took that are now currently for sale on the German and Dutch market.  This is a moment that everyone looks forward to. This is when they can physically touch the result of their hard work, efforts and creativity. Knowing that the cards are bought and appreciated by European customers is also an incredible boost for their self-esteem! At the same time, the newest members of FairMail are inspired by seeing their colleagues receiving their cards and this gives them further motivation to keep on working hard on new photo ideas. Last but not least, the fact that they receive a copy of the cards means that they will have something to show to a potential future employer.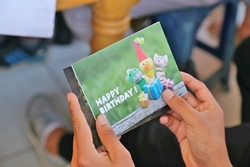 After the distribution of the cards the party got into its full swing! Despite the hot temperature of the Peruvian summer, we enjoyed a lovely hot chocolate, a delicious Panetton from Mundo Pan (a local bakery owned by Mundo de Niños – the boy home from where we recruit our photographers) and chicken sandwiches made by Anidela and Angeles, our local managers.
When it comes to gift exchange, we found a good compromise between keeping the tradition of giving a little something to the people you love alive and avoid falling into unnecessary consumerism. In the previous class we all had drawn one name from a hat and that was the person we were supposed to give our present to. The feeling of anticipation and excitement was in the air as we unwrapped our presents. Everyone seemed to be very happy in the end with their presents…with the exception of F.C. Barcelona supporter Paul who got a photo frame with the colors of Real Madrid C.F., a tough one for him!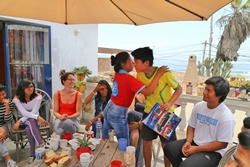 Before saying goodbye, the teenagers, were given a "Canasta Navideña", as tradition dictates.  A bucket full of food products to bring home and enjoy with their families.
A simple but meaningful Christmas here in FairMail!
Share