Posted on 20 September 2017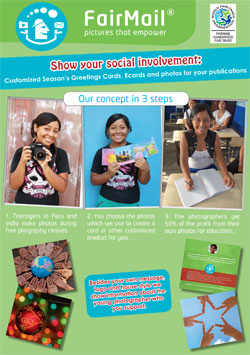 Nowadays most companies and organisations are aware of their Corporate Social Responsibility and actually have a CSR policy in place. However they find it is often not so easy to communicate this to the outside world. That's where FairMail comes in. We made it very easy for your employer to fulfil and express its social engagement by using a FairMail photo for corporate Christmas cards, e-cards, social media, website or publications.
Make a visible difference with a fair trade photograph
It is really easy to make your message fair trade and show the rest of the world that you care. All you have to do is:
1) Find the pictures you want in our on-line photo gallery. (click here for the Christmas photographs)
2) Send us the text or logo you would like on the card.
3) Tell us the size of the card (ex. A5 or A6) or other product you are interested in.
Then we get to work on the design for you. You will receive a digital sample of the design for your approval before we send it to the printer.
FairMail, trusted by:
Many other companies and organisations have chosen to express their social involvement making use of a tailor made FairMail product, like these companies for example:
According to Elly Bal, communications officer at the ASN Bank "With photos from FairMail you help children in Peru build a good future for themselves."
Click here if you would like to receive a price quote.
Read all the details about our B2B offering in our digital flyer.
Share