Posted on 7 September 2016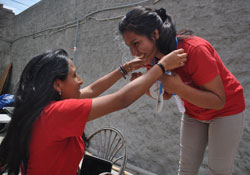 This year FairMail is celebrating its tenth anniversary. We got the biggest gift of all from former FairMail Peru photographer Maria flor who became the first FairMail teenager to get a university degree! And also the first in her family. In July she defended her thesis successfully and finished the 5-year communications sciences degree at the UCV private university.
Stand out from the rest
When Maria flor started studying she had a very clear goal: to stand out from the rest. As this would be the best guarantee for a better future. A clear example of this is the story she told about her best memory over the past 5 years:
"At my private university the monthly fees are very high. When I went to pay for my second semester the secretary told me I didn't have to pay anything as I got the highest grades of all during the first semester. I was sure it had to be a mistake. So I asked her to check again please. But it was true. I was in shock and couldn't think at all. But later in the bus back home I was very happy that all my effort, dedication, determination and invested time had been worthwhile."
In many of the following semesters Maria flor repeated this performance and received more scholarships for her high scores.
Finding a job in Peru
Even with a university degree finding a good job is not easy in Peru. A lot depends on who you know amongst potential employers so they can recommend you. Moreover, most employers are looking for employees with experience. And usually the first years you have to deal with being lowest in the hierarchy so your next job can be better. To increase your chances to find a job it is also very important to have various degrees.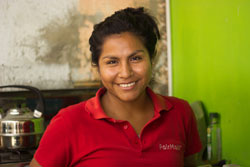 Plans for the future
So it looks like Maria flor isn't finished studying yet. She wants to complement her degree with studying English, graphic design and audio visual techniques. And she wants to work as Au Pair in the USA for one year.
"Perhaps it sounds a bit crazy because normally after finishing university people look for a job. But I want to try something different as I like learning new things, work on my English and feel that I can do something by myself as I have always lived with my mother, brothers and sister. When I return I want to study "international business" and travel to Canada as there are opportunities for Peruvian students to do an internship there."
That's Maria flor, always working on new goals.
The next generation
With Maria flor out of university we currently have two Peruvian teenagers in University: Yuli and Anidela. Actually three as Juan Gabriel just started studying communication sciences at the UPAO private university in August. On his way to become FairMail's first male university graduate?
Share