Posted on 27 June 2013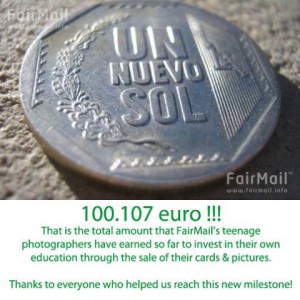 After calculating the profits of card and picture sales in the first four months of 2013 we reached an important milestone in FairMail's history: 100.107 euro in direct earnings by our teenage photographers from Peru, India and Morocco. That means 100.107 euro directly invested (or still saved ready to invest) in the teenagers education, housing or health through the sale of their own pictures!
Who would have thought when we started FairMail in June 2006 that these teenagers, who had never touched a camera before, would have been able to take such great pictures? And that they were able to turn the free resource of local beauty into so much local income?
You can check out each teenager's exact earnings and what each one has done so far with their money on their personal profile page.
Thanks to everyone for helping us make this possible!
Share