Posted on 11 December 2010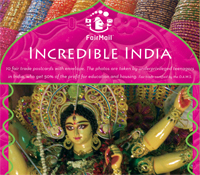 In the new year another 22 new FairMail cards, 1 calender and 5 bookmarks have become available. Because the cards from India are so popular we developed a special giftset with 10 colourfull Indian pictures. The giftset "Incredible India" is not only fun to give away as a present, but also handy to have at home in case you need a card. That way you always have what you need when it is someone's birthday, when someone is going away, needs some support or to say just how special the other one is for you.
There is also a new limited edition 2011 kalender available in our webshop. Just as the first collection of 5 colourfull bookmarks with writing space.
In the new collection of 33 cards are also the first cards by new photographers Pasquel, Jorge, Patricia and Resham. They too have started saving up for their dreams for the future.
Click here to quickly go to the webshop!
Share