Posted on 9 October 2018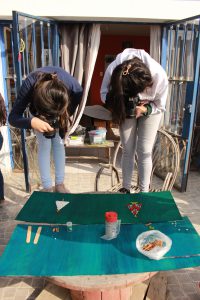 If you want to surprise your clients, family, friends or colleagues this year, go fair trade with your Christmas cards! FairMail Christmas cards are not only a treat for your eyes but also a powerful choice to contribute to the personal empowerment of our teenage photographers.
During the month of July, the FairMail teenagers have worked on their Christmas pictures. All of a sudden, the office turned into an out-of-season Christmas laboratory with a present-wrapping station and a permanent cinnamon smell in the air!
The photographers were challenged to create Christmas images using everyday objects and the results will most likely surprise you! From chocolate cookies to coffee beans including buttons, lentils and coco powder, they've used them all!
You can buy our cards on our web shop, or on Greetz web site. If you want to get personalized Christmas cards for your company or your family and friends, you can have a look at our Christmas catalogue here.
Don't miss the opportunity to give a meaningful Christmas card this year, you'll make the difference in the lives of our teenage photographers!
Share